Washington State wide receiver De'Zhaun Stribling (88) celebrates his touchdown during the second half of Saturday's game against the Idaho Vandals at Gesa Stadium in Pullman.
YOUNG KWAK/Associated Press Washington State linebacker Kyle Thornton tackles Idaho running back Anthony Woods during the second half of Saturday's game in Pullman.
YOUNG KWAK/Associated Press Idaho quarterback Gevani McCoy dives for a first down as Washington State defensive back Jaden Hicks, right, closes in during the first half of Saturday's game in Pullman.
By MARK NELKE
Sports writer
PULLMAN — The Battle of the Palouse turned into a battle again.
The Idaho Vandals forced two turnovers in the first four minutes of Saturday's 92nd meeting with Washington State, returning one fumble for a touchdown, in the season opener for both teams.
The Vandals, 28-point underdogs, also took plenty of chances in the game, going for it six times on fourth down, converting three for the game.
The Vandals took their first chance less than 9 minutes in, going deep on fourth and 5 near midfield, a play which led to a 10-point lead.
And with all the daring and defense, and despite an offense that struggled most of the game, Idaho had a chance to go for the win at the end.
WSU scored 24 straight points, but needed an interception at the end to hold on for a 24-17 win over Idaho before 25,233 at Gesa Field.
"Some stuff to build on; we have to keep getting better," first-year Idaho coach Jason Eck said. "At times we kinda lagged on offense."
"Turnovers are key to victory," Idaho linebacker Fa'Avai Fa'Avai said. '"We won the turnover margin (3-2); we just came up short."
After Idaho pulled within seven, WSU drove down to the Idaho 1 in the waning seconds, but Dean Janikowski missed a 23-yard field goal with 56 seconds left.
"Our goal was to get the win," Washington State coach Jake Dickert said after the game. "Our kids didn't quit. Our guys didn't panic."
But, "there are a lot of learns in this tape," Dickert said. "The best way to learn is from a win."
Gevani McCoy hit Jordan Dwyer for 19 yards and Jermaine Jackson for 23. On second and 5 from the WSU 28, McCoy underthrew Jackson at the goal line and Daiyan Henley's interception sealed the win for WSU.
WSU eventually stopped turning the ball over, and took the lead by picking the Idaho defense apart with short passes and change-of-pace runs. Still, Idaho's defense bent but didn't break (much), and with one more turnover in the second half, kept the Vandals in the game.
WSU had won nine straight from the Vandals, most of them blowouts. Idaho's last win over the Cougars was in 2000.
"I'm proud of these guys," Eck said. "I don't know if anybody on the team has been around (here) and played a Power-5 team close. … I give these players a ton of credit for buying in and believing they could win, and giving us a chance to win in the fourth quarter."
The Vandals also went for it later in the first quarter, on fourth and 1 from their 29. WSU clogged the middle on the sneak attempt, but McCoy bounced it outside for 3 yards and the first down.
Idaho gambled again at midfield on its next possession. On fourth and 3 from the Vandal 49, McCoy threw a swing pass to Anthony Woods, but WSU nickel Armani Woods stuck him at the 50, and WSU took over.
But it didn't cost Idaho, as WSU's Janikowski was wide right on a 51-yard field goal try.
WSU finally got on the board late in the first half with an 80-yard, nine-play drive — all passes. Heralded Incarnate Word transfer Cameron Ward completed eight of them, four to Donovan Ollie, before finding sixth-year senior Renard Bell from 3 yards out to cut Idaho's lead to 10-7.
McCoy then underthrew a pass behind Hayden Hatten, and WSU's Chau Smith-Wade intercepted at the Idaho 45.
Marcus Harris, Paul Moala and Fa'Avae came up with big defensive plays for the Vandals, limiting WSU to a 34-yard field goal by Janikowski to tie the game at 10 with 6 seconds left in the half.
Harris pushed Ollie out the back of the end zone before Ollie could come down with the catch for a TD. Moala, a transfer from Notre Dame, had a tackle-for-loss, Fa'Avae a sack.
Idaho went for it on fourth and 2 at the WSU 40, but a rushing David Gusta batted down McCoy's pass.
WSU for the go-ahead TD, Ward hitting a wide-open De'Zhaun Stribling from 13 yards out for a 17-10 Cougar lead with 8:17 left in the third.
Idaho forced a third WSU turnover as Fa'Avae caused a fumble and Davante Keys recovered at the Cougar 47 early in the fourth quarter.
But two false starts and two sacks, including one on fourth and 7 by Marsh back to the Idaho 39, halted that drive with 11:40 to play.
The Cougs turned that into points, as Jaylen Jenkins took a swing pass from Ward and ran through a tackle for an 8-yard touchdown to make it 24-10 with 10:33 left.
But Idaho wasn't done. McCoy hit Jackson up the left sideline for 35 yards on fourth and 8 from the Vandal 27, then hit Dwyer, a true freshman, from 23 yards out to cut it to 24-17 with 6:05 left.
McCoy, a sophomore making his first Vandal start at quarterback, was 21 of 32 for 212 yards and two interceptions.
"Honestly, it was a dream come true," McCoy said of making his first start. "And I was ready to lead my team into battle. The emotions were just surreal."
"Gevani knew he was going to be the quarterback for a while," Eck said. "You guys found out today, but he knew he was going to be the quarterback … for almost two weeks. He prepared well for this, and did some good things in this game."
Ward's first drive as WSU quarterback resulted in two first downs — one on a scramble by Ward — before Moala forced a fumble by WSU's Jaylen Jenkins and Idaho's Malakai Williams recovered at the Vandal 27.
After Idaho gained zero yards on three plays and punted, the Vandals' Mathias Bertram stripped the ball from Ollie after a short reception, and Harris scooped up the ball and raced 45 yards for a 7-0 Vandal lead.
McCoy hit Jackson for 39 yards down the left side to give Idaho a first and goal at the 8. That led to Ricardo Chavez's 27-yard field goal and a 10-0 lead.
WSU outgained Idaho 225-87 in the first half, but Idaho forced two turnovers and converted two fourth downs. The Vandals converted just two of nine times on third down, but were two of three on fourth.
For the game, WSU outgained the Vandals 358-274.
Ward was 25 of 40 for 215 yards and three TDs. Nakia Watson ran for 117 yards for WSU.
Both teams will be playing in the Midwest next Saturday, some 6 hours away — Idaho at Indiana, and Washington State at Wisconsin.
Dickert, who took over as interim coach midway through last season, and Eck coached together as assistants at two previous stops years ago.
"I told him all along that my plan in this game is to make you look bad," Eck joked, "so now Wisconsin will take you lightly and you can upset Wisconsin next week."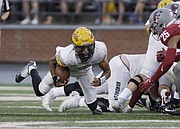 YOUNG KWAK/Associated Press Idaho quarterback Gevani McCoy dives for a first down as Washington State defensive back Jaden Hicks, right, closes in during the first half of Saturday's game in Pullman.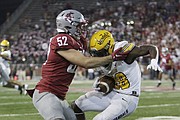 YOUNG KWAK/Associated Press Washington State linebacker Kyle Thornton tackles Idaho running back Anthony Woods during the second half of Saturday's game in Pullman.
twitter
facebook
LinkedIn
Email
copyright © 2022 Terms of Use | Privacy Policy 215 N. 2nd St. Coeur d'Alene, ID 83814
208-664-8176